Mico - Live Streaming, random voice & video chat
5.3.2.3
A Social App to Meet and Befriend New People!
The lives of people have become so busy that it is difficult to go to social gatherings and find and befriend people. Since it has become difficult to meet new people in a conventional manner, an interesting option is offered via the internet where you can get in touch with people without the need to waste your time in arranging social gatherings. Another wonderful aspect of socializing through the internet is that you can meet and talk to people you couldn't have done so due to physical restrictions like longer distances or physical boundaries. A medium needs to be provided for socializing though and Mico is a fine social app which can help you find, meet and befriend new people right from the comfort of your home!
Mico has a very simple interface. Once you will have installed the app on your phone, you will be required to provide verification through phone or your Facebook account. You will then be asked to upload your picture at the very least to start meeting and befriending new people. The app's homepage offers a five tabbed interface at the bottom with the main feature called 'Match' displayed on the homepage. The other tabs introduce you to features like 'People and Moments', 'Live Videos', 'Chats' and 'Profile'.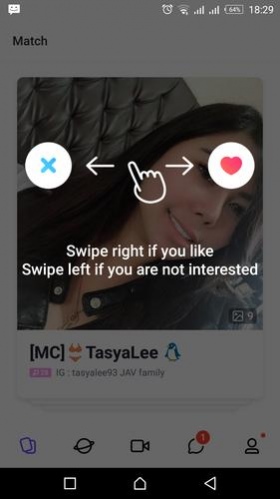 The Match feature is basically very similar to the concept of Tinder. You will be introduced to users of the app Mico who are closest to your location. You will be displayed their profile picture, their name and their location on the screen. You can further delve into their profile if needed which will let you know their preferences and interests. On the basis of these bits of information, you can choose to swipe right or left. If you swipe right, you will decide not to get in contact with the person. If you swipe left then the other person would be notified of your interest in chatting with them. If the other person also swipes left, then the social app would open a chat window for you where you can talk and chat and see where you want to take your acquaintance.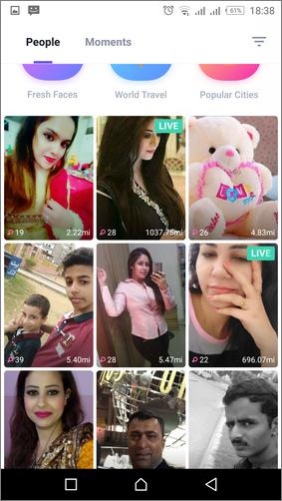 Other features of the social app Mico are also very interesting. The People and Moments section introduce you to different users of the app. You can individually go to their profile, like their profile, add them as your friend and chat with them as well. This is simple and easy but it all depends on whether the other person also wants to get in touch with you or not. The Videos section introduces you to the best videos shared by the users of Mico. The app also notifies if any person is currently live streaming something as you can join the stream and see what the person is up to. You can also go live yourself as well and decide on the title of the stream. You can beautify the video and decide between video, game and PK modes. This is great as well and the feature is very useful for introducing yourself to people you have befriended through this wonderful social app.
The app's Profile section is great as well as it lets you give the people an idea of what you are all about as a human. It also creates some competition by giving rewards and statuses based on your activity on the app.
Features:
Simple and colorful display
Interesting Tinder-like feature for finding new people and matching with them
Easy to find people on the app and get in touch with them through individual or group chats
Great videos and live streaming options with easy to record videos and go live yourself.
Conclusion:
Mico (Blogger) is a good social app which provides you the chance to meet and chat with random people and live stream with the audience that you have developed while using the app. The app could do with localized bases in most countries but it has all the ingredients of a solid social app!
---
Add a review
Tell us your experience with
Mico - Live Streaming, random voice & video chat
5.3.2.3
RELATED PROGRAMS
Our Recommendations
---
---
---
---